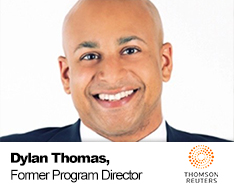 Dylan Thomas /
THOMSON REUTERS
Dylan has been at the forefront of top institutions entrusted by ExCo members to steer strategic change across the business, operations, and technology for the last 20 years.  TRAKAI is his project management consultancy firm Trakai.
Our Future: Passionate about disruptive innovative technologies, the associated regulatory challenges, and their role in promoting "Sustainability by Design", he is keen to encourage leaders to create a positive environmental and socio-economic outcome for our global communities.
Regulation: Currently he is delivering Privacy by Design business transformation for (GDPR) regulation at British Land.  Most recently as the GDPR Program Director at Thomson Reuters, he successfully embedded Privacy by Design across the global company, as confirmed by Deloitte.
Innovation: When Head of Program Management at London Stock Exchange Group his Change leadership responsibility was to align strategies, boost revenues, comply with regulation (MiFIDII), and optimise capital investment.  Launching new ventures ranged from new market models or companies, M&A, to the development in new technologies: Blockchain (Distributed Ledger), Machine Learning, AI and Quantitative Models.
Governance: Surprisingly fluent in French for a Brit, Dylan re-engineered governance and target operating models to bring efficiency of BNP Paribas CIB IT Operations as Head of Global Program Management over 9 years, promoting COBIT, ITIL and AGILE methodologies.  In parallel, Client Relationship was his key to success at IBM France to transform troubled strategic outsourcing accounts into win-win partnerships.