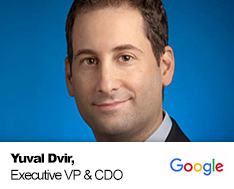 A Digital Transformation Executive with 15 years experience combining deep Product knowledge, rich Data insights and strategic Operations know-how to lead change, innovation and growth in global organizations. Yuval has achieved an MSc in Applied Computational Neuroscience from Kings College London. Industry speaker, evangelist and thought leader on developing and leading high-performance teams, divisions and companies using analytics, culture and agility as main pillars.
Currently, Head of Online Partnerships for Google for Work, helping organisations change and transform by adopting a lean, agile and modern way of working powered by Google's Cloud and Apps infrastructure and productivity suite. Prior to that led led Product Strategy and Operations across Search ads, display, programmatic, YouTube and Shopping. As Microsoft's Global Head of Business Transformation, re-built Skype's data infrastructure and visualisation layer to be later managed under a newly designed Global Insights team. The transformation effort created a modern digital ecosystem, hardwiring product, engineering and business functions to it across all levels, making it the de-facto operating model of Skype.
This promoted the behavioural and cultural changes required to create a more nimble, adaptive, and data-driven culture throughout. The change enabled Skype to reach its peak connected users, 10X mobile engagements, 50% more revenue and significant uptick in NPS and customer experience.
As Skype's Lead for Product Strategy, radically accelerated the shift to mobile and cloud, streamlined the user experience for a similar 'look & feel' across all platforms, drove the migration of hundreds of millions of Skype and MSNMessenger customers onto a single network under the Skype brand, and co-led the merger with Lync to become a unified consumer + enterprise global business. Yuval holds a B.S.c from the Technion – Israel's Institute of Technology and an M.B.A from INSEAD Business School in France and Singapore.